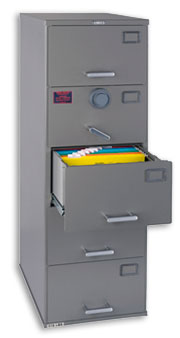 Control Drawer Fronts Easy to Remove and Replace
Safe and Efficient Access
Control drawer does not need to be opened to open other drawers, simply turn the control handle to the unlocked position. This gives you more usable space in other drawers and eliminates catching fingers between drawers when opening.
Powder Coated Textured Paint --
provides harder finish, reduces fingerprints and daily wear.
Space for Hanging File Labels --
close the drawer and they don't rip off!
Built-In Hanging File Folder Rails
Nothing to assemble, no sagging rails.